Medical herbalists have a training which is very similar to orthodox doctors and they use the same diagnostic tests as a conventional medical practitioner.  However, with a much longer consultation they are able to take a very detailed medical history so they get an in-depth picture of their patient's past and present health, diet and lifestyle. They then use plant based herbal remedies along with detailed dietary and supplement advice to support the body's own healing processes to bring their patients back to good health.
Ellie Holly is a highly qualified Medical Herbalist and can prescribe herbal medicines to be used safely alongside conventional drugs.  Herbal medicines can be taken alongside orthodox treatment for cancer such as chemo and radiotherapy and can complement orthodox drug treatment and help to reduce side effects.
Herbal medicine may help a wide range of medical conditions including:
Supporting patients pre and post-surgery so they get the best possible healing outcomes
Supporting patients during cancer treatments to improve outcomes and to reduce the side effects of medications and radiotherapy
Support tissue repair and healing after surgery or accidents
Hormonal issues such as menopause, PMS, endometriosis, PCOS, infertility etc.
Improving digestive health
Reducing feelings of stress and improving sleep
And many other conditions, please contact Ellie for more information
---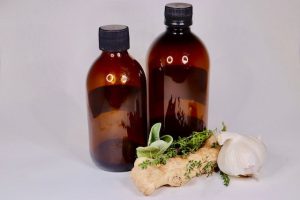 What can I expect from a Medical Herbalist?
The first consultation lasts an hour and Ellie will take a detailed medical history including past and present health, digestion, blood pressure, stress and energy levels, medication, supplements, diet and lifestyle etc.
Ellie will discuss with you what dietary and lifestyle changes may benefit your health.  She may recommend supplements and talk about exercise, stress management and other lifestyle considerations.  She will design an individually tailored herbal prescription for you typically containing between four and seven herbal tinctures which will then be made up and posted out to you.  The herbal medicines are easy to take and a typical dose is a teaspoon in water two or three times daily.
Quality control in herbal medicine is key to successful and safe treatment.   Ellie only uses the best herbal tinctures from trusted suppliers who are consistently testing their products for efficacy and active constituents.  Organic tinctures are used whenever possible.
How long will I need to come for treatments?
Subsequent visits are a chance to review the progress of your treatment, monitor and support your dietary and lifestyle changes, and make appropriate adjustments to your herbal prescription. The number of appointments needed will depend on the reason for your treatment. Patients with short term health conditions usually respond quickly and may only need two or three appointments. Long term conditions may need much longer treatment although improvements in your health are typically seen within the first few weeks.
Contact Ellie now on 07949463288 to arrange your free ten minute telephone consultation to discuss your health and find out more about Medical Herbalism appointments.